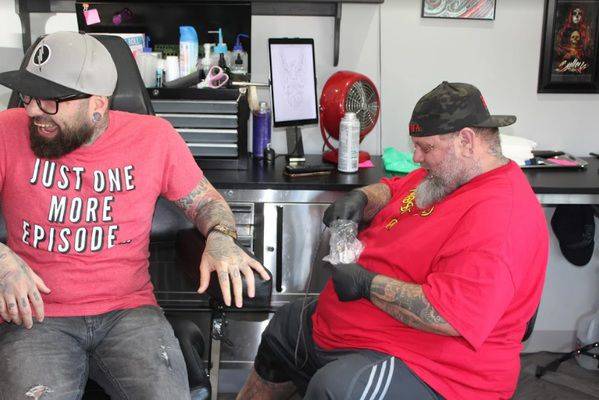 Jail Minstry partners with Goshen Ink Therapy
Sep 24, 2018 by JOSELYN ELLINGTON
SHOP OWNER TARGETS GANG TATTOOS
Man wants to help people start new life after jail
GOSHEN — Jake Kinsey, co-owner of Goshen Ink Therapy, is partnering with Jail Ministries of Elkhart to provide free gang tattoo coverings for recently released inmates.
Kinsey, who aspires to help former gang members, said tattoo coverings will be done at the shop every Tuesday.
"I've been where they are, at one point of time," Kinsey said. "It was some racist tattoos when I was younger, and I didn't like them at all. When I got out, it caused way too much problems. I have a multiracial family."
Kinsey had his racist tattoos covered over 20 years ago, he said: "I am not that person anymore."
The crew at Goshen Ink Therapy,101 S. 3rd St., consists of Kinsey, his wife and co-owner Jessica Kinsey, and tattoo artist Joe Ramirez. The shop has been open about a year and plans to celebrate by getting a big sign out front, Kinsey said.
Kinsey said he gained black and Mexican siblings when his parents adopted children.
"So, I felt really crappy having some of them tattoos on me, like going swimming in the family pool," Kinsey said. "I got hooked up with a guy and got covered up pretty quick, and I felt a lot better about that."
Kinsey initiated contact with Jail Ministries after he saw they had a need. Cory Martin, chaplain of Jail Ministries, said he was pleased when Kinsey approached him.
"So Jake called me," Martin said. "He said he would like to partner with us and would love to cover up any gang tattoos."
County Jail Ministries began a free laser tattoo removal program that will remove any gang-related tattoos on the face and hands for free while an inmate is incarcerated.
"We just started this a month ago and are going to have more clients," Martin said. Some 200 inmates were reportedly signed up on Aug. 21.
Holly Young is Jail Ministries' new tattoo removal specialist. She removes the inmates gang tattoos using a $50,000 laser machine that was purchased by the county with the help of donations. Her new position is surpassing expectations.
"We hired her at part time, but we can keep her as busy as full time," said Martin, who expects more inmates will sign up.
The protocol for the laser tattoo removal includes a series of treatments that may take five to eight sessions to complete, Martin said. This does not include the fading process.
"The problem with the jail is that a lot of men and women are not there long enough to complete their removal. If we can't remove them completely, but can lighten them up, that makes Jake's job easier. That's a win for a lot of people," Martin said.
Martin said it is expensive to have tattoos removed outside the jail and believes the closest place to go is Fort Wayne. When inmates with gang tattoos are up for release, Martin will refer them to Goshen Ink Therapy.
"Now we have our source," he said.
Martin said Kinsey might get his first client this month.
"It is great to have someone else out there in the community," Martin said. "Jake is a well-respected tattoo artist. He is a great man."
Martin also hopes to have a second laser machine in the community by the end of this year.
See the Full Story >