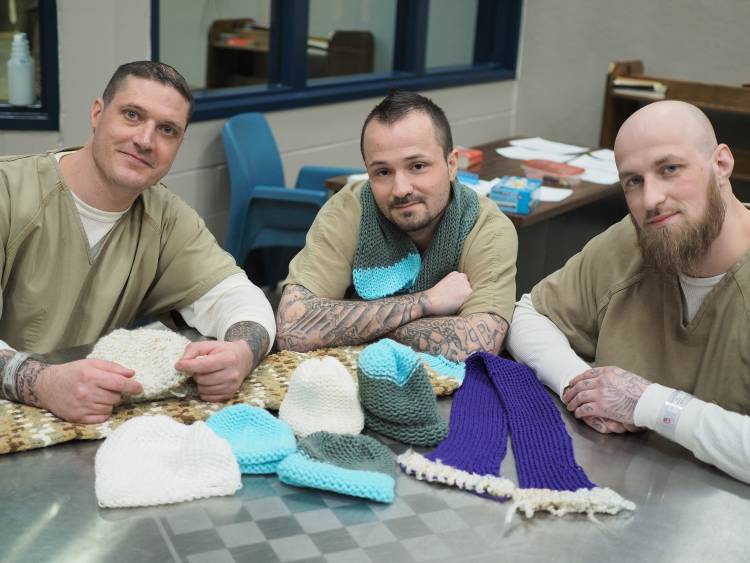 Elkhart County inmates crochet items for the needy
Nov 28, 2016 by SHERRY VAN ARSDALL
After learning to crochet a month ago, eight to 12 inmates at the Elkhart County jail are giving back to the community by donating scarves and hats to local ministries to help struggling families keep warm this winter.
The new crochet class has been taught by Lt. Kris Klosinski as part of the moral reconation therapy program at the jail, where inmates participating in the program are required to earn 20 hours of community service, Klosinski said.
Three participants in the program shared similar thoughts about being able to give back to their community.
Jon Ashcraft, who is in jail on a charge of being a habitual traffic offender, said it makes him feel good to do good things for Elkhart County after all the wrong he has done.
"It means a lot to be able to be seen as something other than bad," Ashcraft said.
Luke Yeazel said he feels great doing something for the homeless and giving back to the community for everything he's done that's been negative. He is serving an 18-month sentence for a conviction of battery on a police officer.
"I'm blessed and it feels very enlightening to finally give back," Yeazel said.
Cory McCloskey added that taking part in the program feels cool and makes him feel good inside. He is serving sentences for trafficking with an inmate and possession of marijuana.
Klosinski said the first night of the class in mid-October, she had eight men show up to learn how to crochet using a crochet hook and a plastic loom. But then the number of men dwindled in the class because she heard other inmates were making fun of the participants.
"So I went in there and made a speech and played up really big the guys that were doing it and said, 'I'm really proud of them,'" Klosinski said. "I told them (other inmates) they were working hard on learning it, so they could donate to kids and people who didn't have warm gear for the winter. So a few more started coming and wanted to learn. I think we have 12 different guys who have been involved."
Klosinski said she learned to crochet from her grandmother and volunteered to donate her time and yarn to teach the class because she finds the hobby relaxing and loves making things for people.
Apparently the men find her a good teacher.
"It was easy to learn to make scarves because Lt. Klosinski taught us well," Ashcraft said.
Yeazel agreed
"It was very easy actually, so now all of my children will have matching hats," Yeazel said, who plans to make hats for his children for a future goal.
Klosinski added a volunteer has stepped up to begin a crocheting class for the women at the jail.
"It's a good thing but I'm running out of yarn and looking for donations of yarn and plastic looms," she said. "Some of the guys have asked me if they can make baby hats and baby blankets for the hospital. They are breaking the stereotypes of just women who do crocheting. I think they find it relaxing and it gives them a sense of accomplishment and pride, a sense of self-worth to give to someone else even when they don't have a lot. I'm proud of the guys and tell them to keep up the good work. They're turning a bad situation into a good situation and I'm excited. I'm thankful for the support of my administration."
The men wanted to share their gratitude to county residents who donate supplies for their class.
"We love to do this and it's an easy way for you to donate and be a part of this change even if you don't have time to crochet yourselves," Ashcraft said.
Yeazel said thank you and keep it coming.
"Right on," McCloskey said.
Donations of yarn and/or plastic looms can be taken to the front desk of the Elkhart County jail, 26861 C.R. 26, Elkhart, between 9 a.m. to 9 p.m. seven days a week.
Follow Sherry Van Arsdall on Twitter at @svanarsdall_TGN.
See the Full Story >