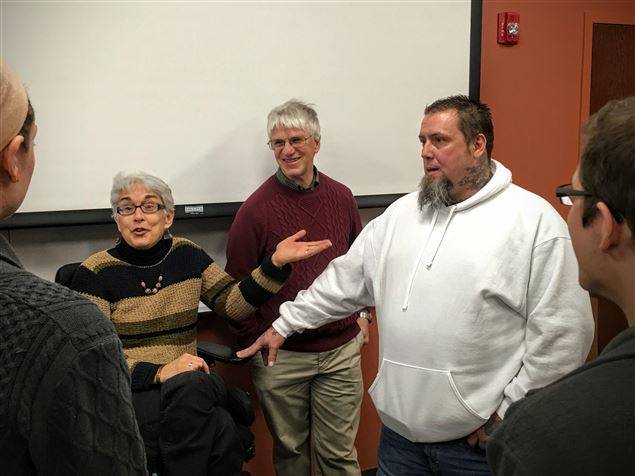 About Town: How college came to the Elkhart County jail
Jan 25, 2016 by Marshall V. King
In May 2014, Doug Flick attended class but never learned the last names of some of hisGoshen College classmates.
They knew him as Dapper Doug, an "inside" student in the first Inside-Out class at the Elkhart County Jail.
Flick was in jail awaiting a trip to Westville state prison, but he was an equal in the class of eager young students wanting to make the world a better place.
It's a long story how Carolyn Schrock-Shenk, associate professor of peace, justice and conflict studies, and Glenn Gilbert, director of sustainability, came to get this class into the jail. In May 2014, they taught the first class, but they told a group at the college on Wednesday with Flick, everyone was learning.
As Mennonites, they're concerned about justice. They approach this differently thanSheriff Brad Rogers, but the chaplain and jail ministry programs and classes he allows and even encourages in the jail aren't common, and he'll tell you he is often criticized by others in law enforcement. He seems to truly care about the inmates.
Chaplain Cory Martin, who helps find the inside students for the two Goshen College classes held at the jail each May, is building a network of people who show how much they care. Inside the jail and outside, there are conversations about justice and violence.
During class, students sat in a circle, alternating between inmates and someone from the college.
"They didn't act like they were any better than anybody," Flick said of his classmates.
They talked a lot about violence and justice, from very different perspectives.
One day, a guard barked that it was time for them to quit praying and for the outsiders to get out. Flick and the other inmates thought it showed the outside students what they have to deal with on the inside, but the inmates also reacted in anger.
The next day, the guard apologized. One of the inside students mouthed, "This never happens," Schrock-Shenk said.
"You got to see part of our life," said Flick, who also had to apologize to the guard for his angry reaction.
It was a bit of a shared experience in a class that participants call "life-changing."
"I've never ever took a class that was so engaging," Flick said. "We grew so close in that little bit of time. It was just weird."
Lori Pompa, director of the Inside-Out Prison Exchange Program at Temple University in Philadelphia, said the only reason we can incarcerate 2.3 million people in our country is because many people don't know what's going on. She asks what kind of people we want coming out of incarceration. Someone bitter or someone who can contribute?
Flick, at age 43, is trying to create a life that keeps him out of prison. He has been there a lot — which meant he had no place to live when he got released — and said he doesn't intend to go back.
Once he got out, he said, "anywhere I could have lived was bad."
But Elnora and Truman Weaver, a couple of strangers, took him in.
"Every success I'm doing now has to do with them taking me in," he said.
He's got a job. He's moving forward. On Wednesday, he stood on campus alongside former classmates.
What happens in these classes doesn't guarantee that Flick will stay out of jail. He lamented how hard it is and that the debt people claim you can pay to society is a myth.
"This justice system works against you. It really does. You don't never pay your debt," he said.
The challenges someone faces upon reentering society seem insurmountable: fees, probation, a working phone, a place to live. When he complained about it, a state corrections employee told him, "Well, you can go back to an 8-by-8 cell."
He got out of prison and was dropped off at the Weavers' doorstep in a T-shirt, torn shorts and ripped-out tennis shoes.
In Westville, he was given a pamphlet of resources in Elkhart. Some of the places listed no longer exist, he said.
"They were literally handing out junk," he said, adding that he worked to get materials updated.
Flick acknowledges that he messed up plenty, but he doesn't believe in the criminal justice system. He praised what's happening at the jail, but not in state prisons.
"What do they want me to do? They want me to re-offend," he said.
Schrock-Shenk and Gilbert believe that mass incarceration isn't working. However, in a community that made national news for the Elkhart Four case, there's a conversation about what's just and how to treat those who have broken the law.
For a few days each May, some earnest college students who want to change the world sit in a room with men and women who were on the wrong side of the law. They sit as students, as equals. One set of them pays for college credit. The other is paying a debt in jail while awaiting trial or sentencing.
Goshen College President James Brenneman has plans to give them all college credit, Gilbert said.
That may not be much, but it's something. As Flick will tell you, the little things mean a lot.
"Little things mean so much to people like me who get out," he said. "It makes all the difference."
And time behind bars that made a difference in the person really is the goal, right?
See the Full Story >