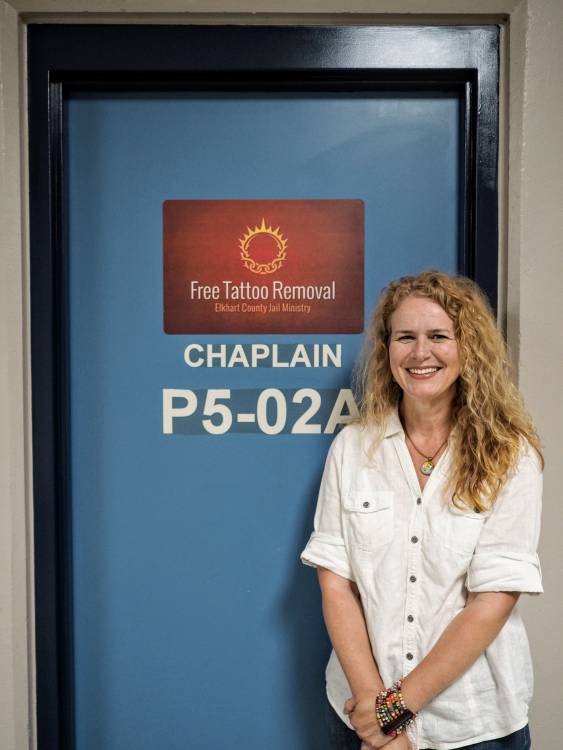 Jail ministry's new machine will erase unwanted tattoos
Jun 26, 2018 by Liz Rieth
ELKHART — Bobby Gunnoe was only 16 years old when he got a tattoo on his throat.
Later, Gunnoe gave himself an arm tattoo that reads "F*** the police."
Gunnoe then surrounded the demeaning phrase with a multitude of gang tattoos on his arms during his time behind bars in the late 2000s.
Years later, as he makes a life for himself with his wife, Lisa, Gunnoe regrets the vulgar ink.
After being released from jail in 2012, Gunnoe became a supervisor at a local factory. He joined St. Mark's United Methodist Church where he met Cory Martin, chaplain of the Jail Ministry of Elkhart County, the man Gunnoe credits for helping him turn his life around.
While Gunnoe's actions have changed, his tattoos remain. Today, Gunnoe's favorite tattoo is on his arm, it's a picture of Jesus on the cross.
Yet when people see his tattoos they often judge a "book by its cover," he said.
"No matter where I go, people ask me about them. I got to explain myself every time, even though I am completely out of that lifestyle," he said.
But with the help of the Jail Ministry of Elkhart County, a solution is in the works.
A WAY OUT
The Jail Ministry of Elkhart County recently received enough donations to be able to purchase a tattoo removal laser for use in the jail starting in August. Gunnoe plans to be one of the people to use it.
"I don't like looking at myself in the mirror because of that (throat tattoo)," Gunnoe said. "Now that I have completely distanced myself from that lifestyle, I hate them. I can't wait to get them taken off."
The laser will be available for any inmates free of charge, Martin said. The $55,000 laser was purchased to ensure once people leave the Elkhart County Jail, they have a chance for employment and the ability to leave gangs, Martin noted.
"When you are getting out of jail and that's what you are facing, just being involved in a Bible study in jail doesn't really help with all of those things," Martin said. "This is one of those tangible ways that we can minister to the men and women by helping them clean up.
"We will let God clean up the inside and we will help clean up the outside."
By making the laser available, the ministry is "saving people's lives," Gunnoe said, adding that he knows many people who have struggled to find a job or detach themselves from gang affiliation. If a former inmate wants to leave a gang, removing the tattoo is key to avoiding being "beat up," he said.
Local graphic design artist Holly Young will be tasked with using the laser to remove the tattoos.
"If you have a prominent gang tattoo you just have a shadow over any voice you might have," Young said. "I am a part of something that helps people feel a sense of relief or freedom. That's exciting to me."
Tattoo removal lasers fade tattoos by exploding the ink of the tattoo into small particles so the body can absorb it, Young said. It can take up to 10 treatments for tattoos to completely fade.
The laser will play a part in several initiatives Martin has initiated in hopes of helping inmates once they leave the prison.
The ministry also partners with dentists to offer free dental work to inmates, helps former inmates find housing and partners with local businesses to arrange employment opportunities.
"My vision for the jail ministry is to keep pushing it outside the walls of the jail. It starts in the jail, but it doesn't stop in the jail," Martin said. "We are really pushing our volunteers and churches and encouraging them to not just to get involved inside the jail, but outside the jail."
Liz Rieth can be reached at elizabeth.rieth@goshennews.com or 574-533-2151, ext. 320. Follow Liz on Twitter @liz_rieth.
See the Full Story >