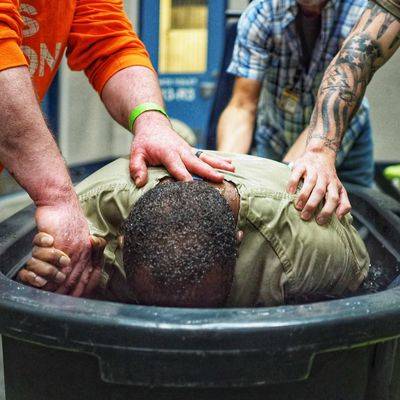 Volunteers are the crux of jail ministry
Jan 08, 2018 by Dani Messick
ELKHART COUNTY – Volunteers and workers at the 35-year old jail ministry of Elkhart County have been working hard to create a new kind of ministry for the people they help.
"Something we're always rethinking here at the jail ministry is how we define success.We try to define success by the faithfulness of our volunteers to serve people, not the outcomes they produce."
Over 400 volunteers and 18 assistant chaplains currently help the jail ministry.
Community Chaplaincy Corporation of Elkhart County's Chaplain Cory Martin explained that the ministry is striving to help former inmates beyond their time in jail.
"When you think of a typical jail ministry or prison ministry, you think of maybe bible studies and church services and we do all that here. [...] When people find themselves in jail it's a low point in their life. They're dying to know, 'Where's hope? Is there something bigger than this mess in my life that can give me hope?' All the stuff we do here makes no difference if we can't connect to people on the outside," Martin said. "If you read in the gospels, Jesus didn't just preach at people. He was with people, he spent time with people, he hung out with people, he befriended people who society was very willing to look the other way and just ignore. And he met people's physical needs; he fed them, he clothed them, he healed them, and so we try to model the jail ministry after that."
Inside jails nationwide, various ministries have offered GED classes and college courses, Bible study, baptisms and services and more. But outside of the jail, historically speaking, people have been left to fend for themselves.
"The problem is, when they get out, most of the inmates are going to leave- they have no job, no car, no transportation, no home to go back to. They leave the jail with all sorts of fines and fees they have to pay, covered in tattoos, the drugs are going to come back into play, maybe they don't have friends or family. They're really facing a steep uphill battle," Martin said. "Our job is to come in here to build relationships, to show them what true unconditional love looks like, so when they get out we can continue those relationships and we can help them with the really practical needs of the ministry."
For the jail ministry, this means, primarily, helping former inmates get jobs, find transportation and housing in order to meet the rest of their needs, and the ministry does this in a number of ways.
"Whenever I speak anywhere now, I always appeal to churches, [...] rotary, whoever I'm speaking to, I challenge people that, "What if we had some landlords in Goshen or in Elkhart County who would maybe use one of their properties to help people coming out of jail or prison who don't have a job, probably don't have good credit, won't have first month's rent necessarily, [...] or churches, we have these huge churches and a lot of them are used once, maybe a few times a week, what if we used these rooms. What if more churches started thinking along the lines of, 'What if we used these churches to help better serve the people that Jesus came to serve?'" he said.
Last September, the jail ministry bought a house to help the people they serve.
"All that momentum is really fragile if you have no place to live."
Rent at the home is based strictly on what the people living there can afford, based on fines and fees the family or individual might owe.
"Most people don't have a problem finding jobs in Elkhart County," he said. "But what we're looking for is employers who will work with us on individuals who may have a particularly long felony list, who have the capability to invest a little bit more in time and training. Spending time with them not just as an employee but as a person."
The jail ministry already has a list of nearly 25 employers who are willing to do so.
"The biggest problem is housing and transportation and jobs all kind of tie in closely together. If you have no transportation, you have to get a house somewhere close to where you work otherwise you're not going to be able to get there. It can be a complicated puzzle sometimes."
This year, the ministry is seeking new kinds of assistance for former inmates including healthcare, dentistry and tattoo removal.
"There's just a massive need in the jail," Martin said. "People who are trying to change their lives and do something different find it hard when they get out and they have gang tattoos all over their body. It's hard to shake off that old person if it's tattooed on our body. Even if they're not gang-related, there's tattoos on their neck and their forehead and their eyes."
Unfortunately, Martin has yet to find any tattoo artists county-wide who perform tattoo removals. To that end, the ministry is considering the purchase of a tattoo removal machine and have someone at the facility trained to use it, or finding some way to make tattoo removal an option for their former inmates.
"What I'm kind of thinking is we'd have it here in the jail to provide for inmates while they're here," he hoped. "Once they get out, life just gets so busy and so hectic, it'd be nice to take care of some of that stuff while they're here so they don't' have to worry about it once they get out.
"The jail ministry, I think, if it's done correctly, will get very tangible very quickly," Martin said.
For more information on the jail ministry or to become involved, visit them online at www.elkhartcountyjailministry.org.
See the Full Story >