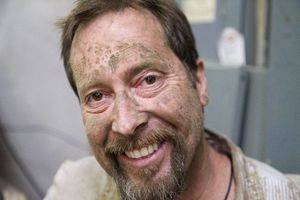 Ministry helps change Elkhart County Jail inmates' hearts, minds
Oct 26, 2015 by Sherry Van Arsdall
By SHERRY VAN ARSDALL sherry.vanarsdall@goshennews.com | Posted: Sunday, October 25, 2015 4:17 pm
ELKHART — As Cory Martin walked down a hallway in the Elkhart County jail, an inmate called out to the jail chaplain with a smile on his face.
Martin smiled back as he said, "Hello ambassador Nathan" to the inmate.
The Elkhart County Jail Ministry chaplain explained he refers to the inmates involved with the jail ministry as ambassadors because, "I want them to know they are ambassadors for Christ," Martin said.
"Nathan has been here for a couple years and for the first time has a reason to smile and be positive. He has hope because he knows God has a purpose for him and he has freedom in jail for the first time. He was addicted to meth and now he has hope."
That hope has changed lives of many inmates, according to Martin.
Elkhart County Sheriff Brad Rogers sees the value in the ministry.
"I support the jail ministry even though it means creating more work for officers through the many volunteers coming into the jail," Rogers said.
Reaching out
There are more than 500 volunteers, people from 100 churches and 23 assistant chaplains spending time with the inmates in various programs.
"The programs are important but the inmates don't need a bunch of programs pushed at them. They need somebody to treat them like a friend, who values their opinions," Martin said. "We use the programs as way to get to know the people. Our ministry is showing them the Gospel, not just telling them."
Russ Hostetler of Goshen has been a volunteer with the jail ministry through his church, Waterford Mennonite Church in Goshen.
He became acquainted with Doug Cuney, who was an inmate in the county jail two years ago. Hostetler has helped the ex-convict, who is currently on probation until April 2016. (Read his story in the Oct. 24 Goshen News).
"It's been such a good walk with Doug. He made the change in jail and he got things straightened out," Hostetler said. "The jail ministry is so important. It makes a difference but it's the connections and following through with inmates after they get out that makes a difference."
Hostetler said he tells people the ministry doesn't cost the taxpayers of Elkhart County anything.
"No tax dollars are used in the ministry," he said. "It's all donations from local churches, individuals and businesses."
Jail house conversions
The chaplain talked about the "jail house conversions" of inmates, many of whom are baptized while still living in the jail.
"We have a horse trough with wheels that we use for baptisms," Martin said.
The ministry's goal is the spiritual conversion of inmates, but do those jail house conversion make a difference within the judicial system when it comes to making a decision about an inmate and their sentence?
"No," according to Heather Norman, communication director with the Elkhart County Prosecutor's office.
"A 'jail house conversion' is not in itself something that would make a difference in the criminal proceedings of someone who has been arrested," Norman said. "The vast majority of people incarcerated will re-enter the community. Inmates may participate in self-improvement activities, such as the jail ministry, substance abuse treatment or continuing education while incarcerated. This may help their transition back into the community. If individuals make positive choices toward becoming contributing members to society by participation in these programs, this may be documented and evaluated as part of a case review."
Superior Court IV Judge Gretchen Lund said she hasn't encountered any cases in her courtroom dealing with the topic of a jail house conversion.
"I do know that Cory Martin does an excellent job at the jail (with the ministry)," Lund said.
And even though an inmate may be converted to religion in jail, the chaplain said the "test is when they get out."
"We just plant the seed, water it and let God do the rest," Martin said. "The men and women (in jail) are desperate to know that there is something more out there. They want what we want, but they need to know we are not trying to change them with some hidden agenda. They need to see we (volunteers with the ministry) want to just be a friend. Most inmates in jail have the expectation that their future is one of two things — either they'll live in prison or die."
The hope
Inmates have been provided hope through Martin and the jail ministry volunteers, the sheriff added.
"The ministry helps to change hearts and minds to allow the foundation of what is needed when the offender returns to society," Rogers said. "Cory and I continue to work with churches to assist in the transition of inmates back into the community so they can be more successful."
There are many struggles for ex-convicts once they are outside prison walls but Martin can tell when the faith of an inmate becomes real to them.
"For the first time, they have a peace, even if they receive bad news. But it can change for them though if they struggle for survival," Martin added. "Many of them have no home, no job, no family, no transportation, no church and no friends. They have drug addictions and tattoos, and people don't want to help them. It's nice to have volunteers here inside the jail but when an inmate gets out, that's when the real ministry begins. It can become messy. Jesus said, 'Love God and love others.' We can do no less."
See the Full Story >